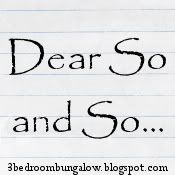 Dear James Garfield,
    The new hairstyle really suits you. Very festive. But you might want to see your dental professional. I'm just sayin'.
Signed, 
Jenny's biggest fan 

Dear "Cashier" guy at Michael's,
When I know more about your job than you do, you probably shouldn't be on the Returns desk at the busiest time of the year. Just my opinion, of course'.
Signed,
The lady who didn't want to pay for the acrylic paints TWICE.
Dear Santa,
For Christmas I would like a couple more days of work as a film extra. Just so Husband can stop stressing about cash flow, ya know?
Signed,
Learning to live without the cash AND the debt